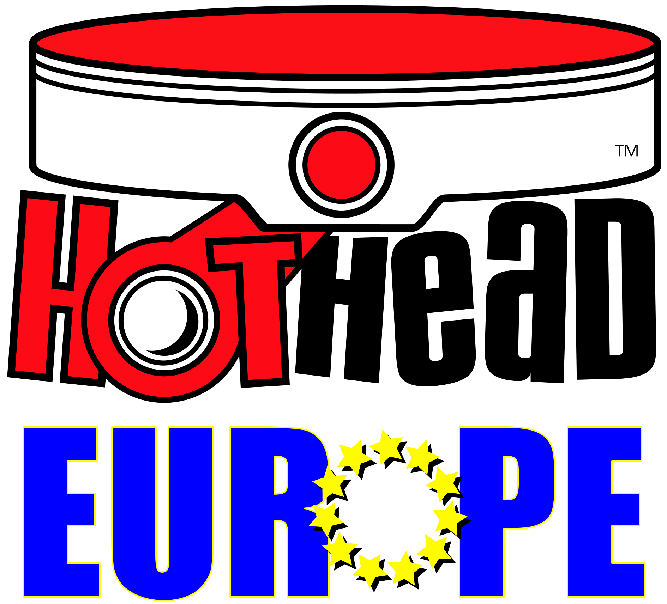 Welcome
Discover Hot Head Competition Engine Heaters
The only product in motorsport that saves you money!
Hot Products Engineering produces the industry's best American made racing engine heaters using the highest quality components. The Hot Head Heater series of engine heating and engine cooling
systems are light weight, compact and affordable. All into Europe imported engine heaters are conform the EU standards, 220V-50Hz.

Our engine pre-heaters help your racing engine produce more horsepower and more torque while extending engine life. Hot Head Engine preheating systems reduce significally piston wear, piston ring wear, engine bearing wear and valve spring fatigue caused by cold engine starts. Important motorsport tuners today design their engines with pre-heating as a must. This allows very tight tolerances that result in more power. A typical example is the piston/cylinder clearance.

The cost of our racing engine heaters can be quickly recovered by not wasting expensive race gas or alcohol fuel during engine warm-up.

Originally the Hot Head PRO-series of engine heaters were designed for Touring cars, Formula cars, Rally cars, Dragsters and Power boats. Later we also specialize in an affordable engine heater, the JrPro unit, for motorcycle based racers that include Motorcycle road racing, Motorcross bikes and Cross buggies. The Hot Head JrPro heaters also feature an engine cooling system that protects engines from latent heat build-up that can damage an engine after racing. Our latest product is the Hot Head CUBE Heater. An "On-board" pre-heater that is mainly used in karting.

Trust in the same engine temperature management systems used by:
NASCAR, American LeMans, Powerboat P1, IMSA, IndyCar, DTM, World of Outlaw Sprint & Dirt Late Model, USAC, IMCA, NHRA, SCORE, 600 Micro Sprint, AMA Motocross teams, Karting teams, and many, more.

About us: Established and founded in 1989, RVF NV has a long history in the motorsport business. For over 25 years we stick to our base principles of offering top products, quality and rapid availability. The choice to limit our portfolio of brands gave us the opportunity to become the best in what we do. We understand the products we sell and try everything we can to help you in case of a problem. In other words, we have an after sales service. Today RVF NV is known as a reliable stockist that offers the following labels: Honda GP-engines (Horizontal shaft) and its spare-parts, swissauto250 engines + spare-parts, ABD clutches, Walbro fuel pumps, Thule (Bike, Canoe & Roof racks, Roof boxes, Snow chains,…) and the complete Hot Products engine Pre-Heater product range.